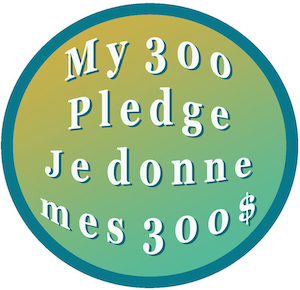 Léona Savoie, Josh Beutel, and Sally and Tom LeFeuvre are Ottawa seniors whose lives, like everyone else's, have been affected by the COVID-19 pandemic.
Like others, they have been following public health guidelines and self-isolating at home. But now, the four friends have been moved to act. They have launched My 300 Pledge, inviting fellow seniors to donate their Government of Canada COVID-19 supplement to a charity serving seniors.
The COVID-19 supplement, due to be sent out the week of July 6, is a one-time, tax-free $300 that aims to support seniors whose day-to-day lives have become pricier under pandemic lockdown measures.
My 300 Pledge organizers are encouraging you – if you are financially able – to donate all or part of your $300 to a charitable organization that helps seniors and their families. We hope you will consider the the Olde Forge Community Resource Centre as an option.
When you donate to your charity of choice, please state your action is a result of the "My 300 Pledge" initiative. Feel free to tell your family, friends, and colleagues about the My 300 Pledge call to action.