Community Support Services
Olde Forge provides a wide range of community support services for seniors in Ottawa. The services include Footcare, Day and Luncheon Programs, Home Help and Home Maintenance and Home Visits.
Please Note: To Help Support the City of Ottawa's Physical Distancing Restrictions, the Olde Forge has Modified and Enhanced Some of it's Programs and Services At This Time. Details on Current Offerings are indicated in RED below
Footcare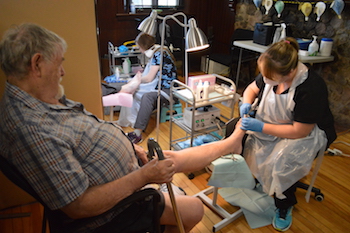 Footcare has been offered at the Olde Forge for more than 20 years, currently once a week on Thursdays, and there are no geographic boundaries to service. It is offered by certified footcare nurses who specialize in diabetic footcare and serves 36 clients each day. Costs are covered by user fees and Ontario Ministry of Health subsidies. This is a high-demand program with a waiting list for new appointments.
To register: Call 613-829-9777 or This email address is being protected from spambots. You need JavaScript enabled to view it.
Fee: $37.00 for the first appointment, $22.00 for subsequent appointments
---
Day Programs
The Olde Forge is continuing to run its popular Adult Day Program virtually! Clients can join the group via Zoom or can call in to participate. This is a great way for clients to stay connected and enjoy some good laughs and great discussions with some friendly faces. Please contact Vanessa for more details.
The Day Programs, offered two days a week since 2006, serve frail seniors and seniors with a cognitive impairment, offering a day full of stimulating physical and mental exercises, games and entertainment, and a nutritional hot meal. Clients are referred through community agencies etc. This also provides a respite service for full-time caregivers. Twelve clients are served each day. There is a user fee plus a transportation fee.
We take 12 clients per day. They enjoy the variety and change of pace, and caregivers appreciate the quality and reliability of the programs. Caring volunteers are heavily involved in this program, and significant program planning is required.
To register: All referrals must be made through Home & Community Care please contact us for more information or assistance for a referral. 613-829-9777
Fee: $20.00/day
---
Luncheon Program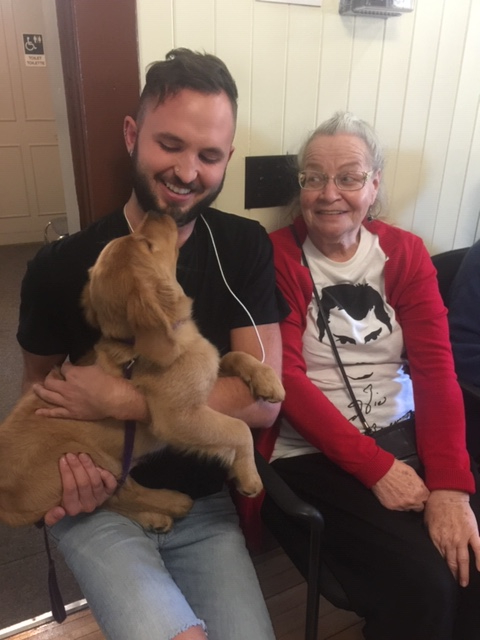 The Wednesday Luncheon Program (same bunch without the lunch), is continuing to run in a "party line" format. Clients can expect interesting discussions and trivia activities along with some good old fashion fun with Vanessa! To register, please contact This email address is being protected from spambots. You need JavaScript enabled to view it.
This program is offered on Wednesdays to seniors who may be socially isolated or who are living independently but have care needs. Luncheon begins with welcome/social time followed by a hot lunch and finishes the day with entertainment. A user fee and transportation fee is charged. This program is able to serve a maximum of 20 clients. This is a wonderful program that really develops strong community connections and supports. Some clients have been attending for over 10 years!
Want to learn more about this program? Check out the podcast on our Luncheon Program produced by the Ottawa Library.
To register: Call Vanessa at 613-829-9777 ext 223 or This email address is being protected from spambots. You need JavaScript enabled to view it.
Fee:
User Fee $10/Day
Luncheon Program Drive $4
---
Home Help
Provided on a fee-for-service basis by Olde Forge employees – general housekeeping services, including cleaning and vacuuming, laundry, changing bedding, simple meal preparation, reviewing mail, grocery shopping, companionship, anything that doesn't involve hands-on personal care -- with a minimum of a two-hour visit. Program is designed to allow clients to live independently in their homes. Provision of services is preceded by a home visit to determine needs and wishes and to identify need for other services. A single worker is assigned to the client to develop comfort and familiarity. Worker monitors client's condition and reports any concerns.
To register: Call Karen at 613-829-9777 ext 227 or This email address is being protected from spambots. You need JavaScript enabled to view it.
Fee: $25/hr (minimum 2 hour increments)
---
Home Maintenance
We are thrilled to announce that Yard Maintenance has been approved by the City of Ottawa to begin on May 1st. The Olde Forge will be able to offer lawn care, raking/thatching, weeding and removal of garden debris. Contact This email address is being protected from spambots. You need JavaScript enabled to view it. for more details
Service is provided by Olde Forge employees to more than 300 people seasonally, on a fee-for-service basis. Service is well-established, over 30 years old. This is an on-call service for minor repairs and odd jobs around the home – storage cleanout, window cleaning, ongoing lawn and garden maintenance (mowing, planting, weeding): anything the client is physically unable to do, if our workers have the skills. Client usually supplies the equipment/tools. If employees cannot provide the service we will refer to an outside supplier where possible.
To register: Call Elizabeth at 613-829-9777 ext 226 or This email address is being protected from spambots. You need JavaScript enabled to view it.This email address is being protected from spambots. You need JavaScript enabled to view it.
Fee: $25/hr (minimum 1 hour increment and 30 minutes there after)
---
Snow Go
Provides a matching service funded by the City of Ottawa, for seniors and adults with disabilities looking to hire an individual or contractor to clear snow from private driveways and walkways. Residents who participate in this program are responsible for paying the individual or contractor removing the snow.
The Olde Forge vets contractors to provide 90 clients a year within the Olde Forge catchment area with snow plowing, blowing and shoveling.
To register: Call 613-829-9777 ext 226 or This email address is being protected from spambots. You need JavaScript enabled to view it.This email address is being protected from spambots. You need JavaScript enabled to view it.
---
Snow Go Assist
Funded by the City of Ottawa, provides financial assistance to eligible low-income seniors or persons with disabilities looking to hire an individual or contractor to clear snow from private driveways and walkways. Approved participants may be reimbursed for 50% of the cost of snow clearing per event, up to a seasonal maximum of $250. Funds are limited and are assessed on income and first come first served basis.
To register: Call 613-829-9777 ext 226 or This email address is being protected from spambots. You need JavaScript enabled to view it.This email address is being protected from spambots. You need JavaScript enabled to view it.
---
Tap Telephone Assurance (TAP)
Through this program, volunteers make regular telephone calls to homebound seniors (60 years of age or older) and disabled persons to check on their well-being and give people an opportunity to socialize. Relationships grow and can last for years . TAP's main purpose is to alleviate some of the concerns facing those who live alone, and help them to remain independent. All new clients must undergo a telephone assesment prior to receiving services in the home (on some occasions a home visit may be required).
Program Benefits:
Opportunity to socialize by telephone with someone who cares
Allows individuals to keep in contact with their community
Helps decrease the feelings of loneliness and isolation
To register: Call 613-829-9777 ext 226or This email address is being protected from spambots. You need JavaScript enabled to view it.This email address is being protected from spambots. You need JavaScript enabled to view it.
Fee: FREE!
---
Friendly Visiting
The Olde Forge is currently offering Telephone Based Regular Check-ins and Friendly Conversations. Through this program, volunteers make regular telephone calls to homebound seniors and disabled persons to check on their well-being and give people and opportunity to socialize. For more information contact This email address is being protected from spambots. You need JavaScript enabled to view it.
A short in-home weekly visit to isolated seniors to provide social interaction and monitor client's state. It is not respite care.
To register: Call 613-829-9777 ext 226 or This email address is being protected from spambots. You need JavaScript enabled to view it.This email address is being protected from spambots. You need JavaScript enabled to view it.
Fee: FREE!
---
Income Tax
NEW!! Income Tax Drop-Off Service During COVID
We will NOT be able to resume our in-person Income Tax Clinics this spring. Instead, we will be accepting Tax Drop-Offs starting on May 4, 2020. Tax volunteers will also be contacting some clients by phone to offer assistance with their 2019 tax preparation.
You qualify to have your taxes completed by Drop-Off if you live in Ontario and:
• Your 2019 income tax return has not yet been filed with CRA
• You were born in 1965 or earlier
• Married or common-law couple: your 2019 total income was $50,000 or less
• Single, separated or divorced person: your 2019 total income was $35,000 or less
• You did not have income from capital gains, rental income from a property you own, income from a business you own, or you were self-employed
• You are not bankrupt
Put all your 2019 tax documents into an envelope (or a ziplock bag), including:
• T-slips for 2019 (e.g. T4, T4A, T4A OAS, T4A CPP, T5007, T3, T5)
• Documents for other income in 2019 (e.g. foreign pensions)
• Rent Receipt for the total rent you paid in 2019
*Note that if you live in Ottawa Community Housing, your rent for 2019 cannot be claimed to calculate your Trillium Benefit.
• Final 2019 Property Tax Bill, if you own the house or condo you live in
• Receipts for medical expenses, donations to charities or political contributions in 2019
• OC Transpo receipts, if you were over 65 in 2019
• Income Tax Return for 2018, if you have it
You must complete an information form available via email and at the Olde Forge in our mailbox. Returns will NOT be completed without this form. Place the completed Form with your documents and Seal the envelope/ziplock and put it through the slot in the door at The Olde Forge, 2730 Carling Avenue. For your own safety, you cannot come into the building. When your return is completed and has been filed with CRA, The Olde Forge volunteer will e-mail you a copy or telephone you with the CRA Confirmation Number. As time permits, we will mail all your tax documents back to you, along with a summary of your 2019 return.
The Olde Forge will once again be offering free Income Tax Clinics for Low Income Seniors 55+!
As we no longer have space available at the Olde Forge during the week to host these clinics, we have entered into a partnership with the City of Ottawa to use one of their sites to run the program.
To qualify you must be:
Be 55 +
Have an income less than:

$35,000 for a single household
$50,00 for a dual income household

Complete a series of screening questions when scheduling an appointment
HERE ARE THE DETAILS:
DAYS: Fridays throughout March, April (excluding April 10th) and the first week of May. Appointments will be available from 9-3.
LOCATION: 100 Constellation Drive – city of Ottawa building, 2nd floor east wing. We have an excellent space and our own separate waiting area for clients. There is good bus service at Woodroffe station and a cafeteria on site. We have access to free visitor parking and have picked these days as the parking is lighter.
To register: Clients will continue to book appoint- ments through the Olde Forge, as it is our administrative hub. The clinics will service low income seniors 55+ only. Screening will be conducted prior to booking appointments to ensure we service our target group only. We will begin booking appointments in February 2019. Call 613-829-9777 Ext 200
Fee: FREE!
---
Please Note that for some services a staff person will need to complete a home visit to assess needs and personal information will be collected such as D.O.B., address, phone and health card number as required by the Province of Ontario.