Volunteer Opportunities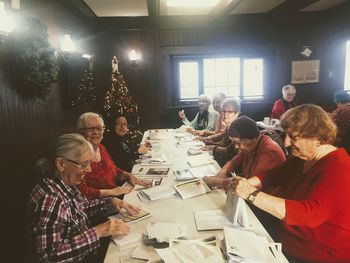 Fold and Stuff VolunteersVolunteers are a cornerstone of almost all our programs. They generally provide the one-on-one contact and social interaction to our clients. Over all our programs we are served by 175 dedicated, caring, competent volunteers, who in 2017 gave 11,000-plus hours.
Adult Day Program Volunteers
The Olde Forge is looking for an energetic, physically able individual to assist with clients and program activities for our Adult Day Program held at Lakeside Gardens at Britannia Bay. You should be comfortable with working with seniors and able to work with the coordinator and other volunteers as part of a team.
Assist in setting up the program room and preparing morning refreshments
Assist and serve clients as they arrive and help as directed during the day
Along with program coordinator, ensure that no client is left on their own
Assist clients to prepare for departure and ensure they safely board transportation
Assist with packing up and putting away at the end of day
---
Recreation Volunteers
Our Recreation Programs are growing in leaps and bounds! We are currently looking for volunteers to assist with the set up and take down of equipment at some of our Fitness programs.
---
Drivers needed to take seniors to medical appointments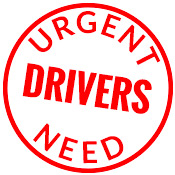 The Olde Forge requires drivers to provide transportation to medical appointments for seniors living in the west end of Ottawa. Drivers also provide transportation to foot care appointments and luncheons at the Olde Forge. The time commitment is flexible and the rewards are huge. Drivers are reimbursed for their mileage and free parking is available at the Ottawa Hospital. Orientation is provided. If you like one-on-one volunteering and have an excellent driving record, this program could be for you.
Donating your time helps our clients not only access the medical care they need, it gives them the added security of a caring individual to help them along the way.
Commitment / Engagement: 6 months to 1 year
---
Telephone Assurance Program (TAP) Volunteers
The Telephone Assurance Program offers regular telephone calls to seniors who are often frail, homebound and isolated. As a volunteer, you would be responsible to make calls at specified times as agreed upon with the client.
Please note that TAP calls are not made on weekends or satutory and civic holidays.
---
Luncheon Program Volunteers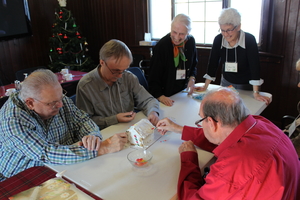 The Luncheon program provides activities and a nutritious lunch to seniors living in the community. Volunteers help with serving meals and with activities. Volunteers are needed on Wednesdays.
---
Grocery Bus
The Grocery Bus transports seniors living in their own homes to various grocery stores. Volunteers can assist on the bus or to help seniors with their shopping. Volunteers are needed on Thursdays.
---
Income Tax Preparation:
Each tax season, the Olde Forge partners with the Community Volunteer Income Tax Program (CVITP) to prepare over 1500 tax returns for low income seniors and adults with disabilities. If you have experience preparing income tax returns and would like more information on how you can help, we would love to hear from you.
---
If you or anyone you know are looking for volunteer opportunities, please contact
This email address is being protected from spambots. You need JavaScript enabled to view it.

at 613‑829‑9777 ext 226 for more information.
Volunteer Today!