Do you remember the 90s sitcom "Everybody Loves Raymond?" Well, with all of the 90's TV re-boots showing up these days, we at the Olde Forge Feel like we should re-boot this show ourselves and call it "Everybody Loves Ray"! If you haven't met Ray Brisebois, you need to take a trip to the Olde Forge because you are truly missing out! Ray began volunteering with us shortly after moving to Ottawa in September 2018 from Espanola, Ontario (a town of only 5000 people). Ray says that he saw our lovely log house on one of his first trips to Ottawa and was immediately drawn to it. In November, Ray began volunteering at the front desk but he has quickly turned into our " Ray of All Trades"; volunteering with luncheon, the Grocery Bus, helping with reminder calls, taking on the role of a facility attendant, and even volunteering with Income Tax! When it comes to the Olde Forge, Ray tells us that it is the people he enjoys the most, but we think it might also have something to do with the food. Ray truly is our Ray of Sunshine; whether he is singing his heart out to the radio, greeting you with his special "Hey-yo", or bringing in a batch of his famous cinnamon buns (with or without raisins), it is hard not to smile when he is around. So come on by the Olde Forge and meet our new friend Ray. You will instantly see why "Everybody Loves Ray" and why we feel that "Ray Days" are the Best Days.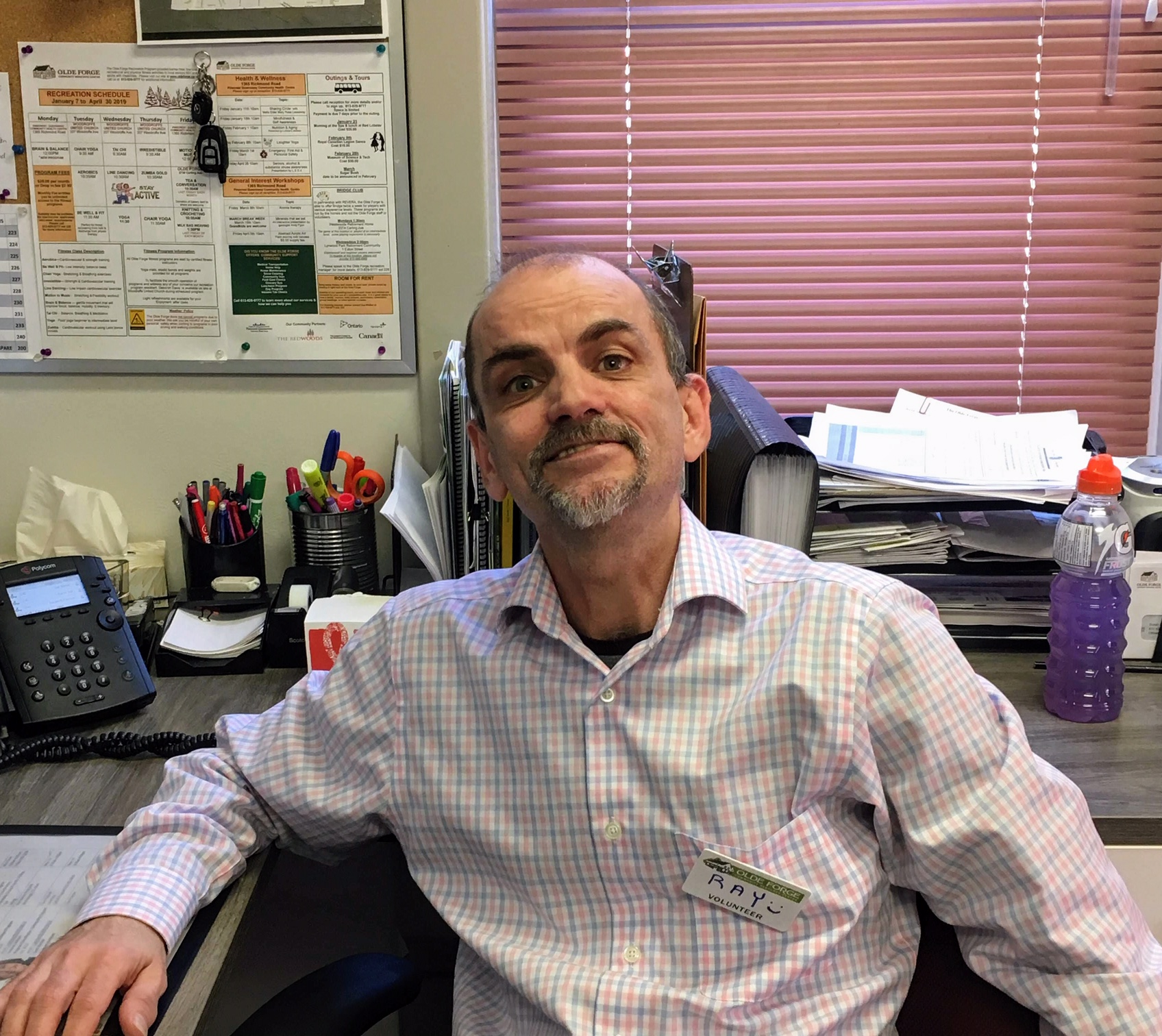 Doug Drew
After 30 years as a volunteer driver with the Olde Forge, Doug Drew, the man with the beautiful music playing in his car, has decided to retire! The actual number of volunteer hours Doug has given over the past 30 years is hard to calculate (his time with us pre-dates our database) but from the information we have, the number is well over 10,000 hours!
Marilyn Ettinger
Marilyn started in June 2006 in the luncheon and Day programs. She is a "Jacquelin of all trades" - she has helped with admin, fold and stuff, at the reception desk and currently the main volunteer for footcare. She is caring and efficient and a true ambassador for Olde Forge in addition to acting as official photographer for many of our events.
Gisele Desjardins
A volunteer since January 2017, Gisele started in the Luncheon Program and shines at the desk and any administrative work thrown her way. She is an integral part of the billing process as she has excellent attention to detail from her past career at Scotiabank.